This morning, Tim Sherwood, has been sacked as manager of Aston Villa FC.
It's not the right move at this point of the season, and I don;t think this would ever be the right move. A manger needs time to gel with his new signings. and to get them playing the way they're designed to do so. I remember a time about when Gordon Strachan moved clubs, and it didn't work out, and he replied that he was trying to rush the style, instead of letting it happen naturally and I think this was the case here, there were signs of turning a corner and , maybe could have gone on a run, all they needed was a result somehow, and I'm certain a run would have been the next step, and everyone will have forgotten about the start, it's often the case that it's not how you star,t it's how you finish, and they would have finished a lot better.
There's been rumours of late that David Moyes ,or Brendan Rodgers could be in the frame to take over, and I hope the owners, where-ever they are are reading this because I don't want either. If the board feel that either is the answer though, I'll learn to cope with David Moyes who , in all credit to him, does have experience of managing at a shoestring budget.
I'm not even angry , I'm going to take people back a few years, to the summer of 2010 when Martin O'Neill was forced into resignation over a dispute about transfer budgets. Sure, his vision wasn't shared by the chairman, but the chairman could have tried to compromise, but from what I remember this wasn't the case. Ever since that day, the purse strings have been tightened so much that a club the size and stature of Aston Villa, can never compete in the real world any-more. Money has ruined this game, and I was glad to see a small demonstration in effect from travelling fans to say as much and the Bayern Munich fans had a banner with them when they played a champions league game: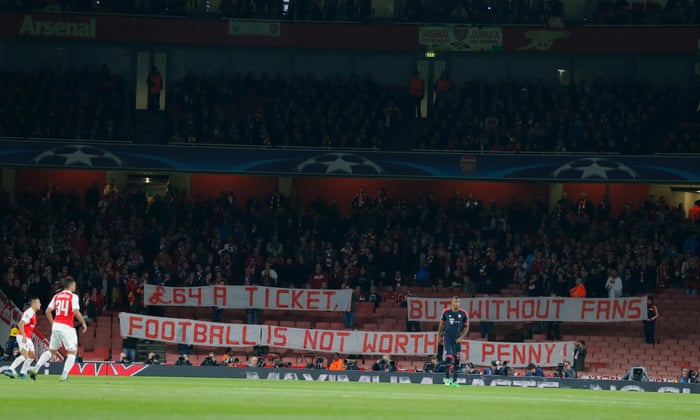 While any game I've been to hasn't been that high, football is no longer a game for everyone to enjoy, you have to almost be a millionaire to do so, and even then, they're not happy!
You can only fault certain people for so long, but others have to take accountability, and the fault on this past five years of uncertainly lies squarely at the door of Randolph D. Lerner, wherever the hell that door is. I know that he's tried to sell the club, but I don;t think he ever went all out to ensure it's survival long term in the top 20 in the country. If you're having trouble, give the club to me, I'll run it while you find a proper buyer instead of the mickey mouse offers you've been getting lately, and I'm not even sure any of the "proposed due diligence " that you had been doing were real, and just told to the press in order to drum up attention, but the real attention comes from on the field, in which has been heavily stifled. Things have to change, and now.
I can no longer give my all in trying to make plans to go watch the team I've loved since childhood, and to continue to try to do so wouldn't be worth my money [not that I have much]. The sooner Lerner is out the [seemingly none existent] door the better for all associated with the Mighty Lions [which by now might be seen as cubs]. The thing to do now would be bring someone in that gives half a damn [Tim apparently did, I could see it in his body language]. This is going to happen time and time again with unrealistic expectations from fans, and probably owners alike and I'm tired of it.
If I was somebody with influence in the world, no doubt the club would be sending me free stuff, here is the
link
to the story I'm talking about:
Sorry, but that isn't right either as the fans that care every week that pay for their season tickets, and their club merch should really take priortiy, over someone, who probably never went to Villa Park.
If anybody that goes to VP every game are reading this, I still love you, the club and the players that try their hardest, but I can't take this anymore and the muppet in control is killing this club from inside out.
I'm off to apply for the job now, hopefully I get it as I don;t trust anybody else right now.